GE SN-FC F /DV-300 excellent quality
| | |
| --- | --- |
| Name: | GE SN-FC F /DV-300 excellent quality |
| Category: | |
| Offered by: | |
GE SN-FC F /DV-300 excellent quality Description:
Who We Are
Amikon has been established for many years and become the outstanding one of this field in Xiamen.
We supply large system (DCS/PLC/TSI) spare parts, modules, card pieces.
Brands:Foxboro,Bently,Westinghouse,ABB,AB,GE,Honeywell,Emerson,Siemens,Schneider,Woodward,Yokogawa,Triconex and so on.
Sales Manager :Yuki
Email:sales15@amikon.cn
WhatsApp|Phone: 86 17359287459
Sky:live:498b014e476a7ffd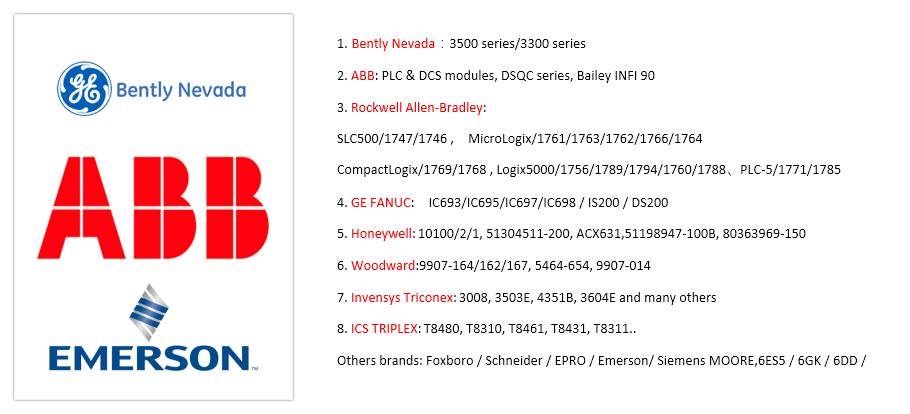 Our service:
Packing & Shipping
1. We will ship the items within 3 working days after the payment is reached.
2. All the goods will be tested before shipment.
3. New and origin factory individual sealed inner box
4. We can ship to you by DHL/TNT/UPS/EMS/Fedex... Pls contact us directly and we will 5. ship as your requirement.
Below Brands have Special Discout recently!!
----(DCS)Distributed Control System
ABB 3AUA0000110429 SYSCON2 746924
Invensys Foxboro FBM214 FBM242 B0123HE
Invensys Triconex 3625 3700A 3604E
Ovation 5X00481G01
Woodword 5462-758B
HIMA F2-DO-16-02 F8650E
Yokogawa SAI143-S03 S1 F9342L-02
Honeywell 51402497-200 51403519-160 51199194-100 CC-PDO801
Emerson KJ4001X1-NB1 12P3368X012
----(PLC)Programmable Logic Controller
Rockwell Allen-Bradley 1734-IB8 1734-OB8 1769-L18ER-BB1B 1756-IM16I
ICS Triplex T8461 T8850 T8403 T8431 T8831 T8310
Schneider Modicon 140DDI85300
GE Fnauc IS210AEPSG2B IS220UCSAH1A IS215ACLEH1A IS210AEAAH1B
Siemens 6ES7331-1KF02-0AB0
Prosoft MVI46-DFNT
Bachmann MPC240
Woodhead 9905-068 2301A
----(TSI)
Bently Nevada 3500/22M 138607-01,3500/32M 149986-02, 3500/53
EPRO MMS6110 MMS6120 MMS6220 MMS6312 MMS641
ENTEK EK C6622HS XM124 1440-SDM02-01RA

Email:sales15@amikon.cn

We have large of inventory for our company's advantage products.
| | | |
| --- | --- | --- |
| Emerson | | KJ3204X1-BK1 SE4002S1T2B6 |
| Emerson | | KJ4005X1-BC1 |
| Emerson | | KJ4006X1-BP1 |
| Emerson | | 9191-FP |
| ICS TRIPLEX | | T8151B |
| ABB | | PFEA111-65 3BSE050090R65 |
| Siemens | | 6DR2410-4 |
| ABB | | YPK112A 3ASD573001A13 |
| AB | | 1746-IO12DC |
| ABB | | DSTC452 5751017-A |
| PLANMECA PROMAX | | 121-10-03-D 10001225 |
| ALSTOM | | MMLB01 |
| ABB | | HIEE200130R2 AFC094AE01 |
| ABB | | HIEE300698R0001 KUC321AE01 |
| Bently Nevada | | 3500/05-01-01-00-00-00 |
| ABB | | PFEA112-65 3BSE050091R65 |
| ICS TRIPLEX | | T9402 |
| ABB | | 3HAC028954-004 |
| HONEYWELL | | CC-PAIN01 51410069-175 |
| GE | | DS200FSAAG1A |
| PROFIBUS | | 1769-DPM |
| Bently Nevada | | 330104-15-23-10-02-00 |
| Bently Nevada | | 330104-19-25-10-11-05 |
| ABB | | OS30AJ12 |
| PROSOFT | | 5205-DFNT-PDPS |
| ABB | | 3BHL000390P0104 3BHB003154R0101 5SHX1960L0004 |
GE SN-FC F /DV-300 excellent quality was added in Oct 2020
GE SN-FC F /DV-300 excellent quality has been viewed 10 times
20 More Products from Amikon plc :