AB 1769-OW8 to be distributed all over the world
| | |
| --- | --- |
| Name: | AB 1769-OW8 to be distributed all over the world |
| Category: | |
| Offered by: | |
AB 1769-OW8 to be distributed all over the world Description:
Amikon Limited
Our company has been established for many years and become the outstanding one of this field in Xiamen.
We supply large system (DCS/PLC/TSI) spare parts, modules, card pieces.
Brands:Foxboro,Bently,Westinghouse,ABB,AB,GE,Honeywell,Emerson,Siemens,Schneider,Woodward,Yokogawa,Triconex and so on.

​
Sales Manager :Yuki
Email:sales15@amikon.cn
WhatsApp|Phone: 86 17359287459
Sky:live:498b014e476a7ffd
​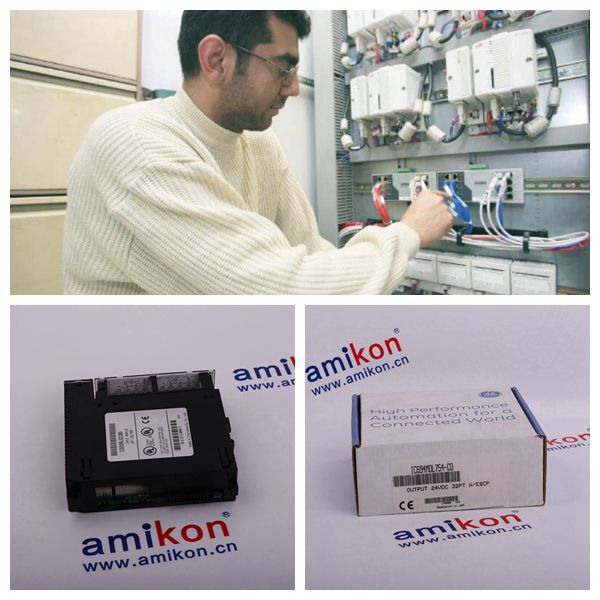 ​
​
Our Advantages:
1.100% Origin goods
2.In stock
3.1-year warranty
4.Timely delivery (1-3working days)
5.Competitive price.
If there is a quality problem within 15 days, you can return and exchange the products!!!
More Products
----(DCS)Distributed Control System
ABB 3AUA0000110429 SYSCON2 746924
Invensys Foxboro FBM214 FBM242 B0123HE
Invensys Triconex 3625 3700A 3604E
Ovation 5X00481G01
Woodword 5462-758B
HIMA F2-DO-16-02 F8650E
Yokogawa SAI143-S03 S1 F9342L-02
Honeywell 51402497-200 51403519-160 51199194-100 CC-PDO801 51405043-175
Emerson KJ4001X1-NB1 12P3368X012
----(PLC)Programmable Logic Controller
Rockwell Allen-Bradley 1734-IB8 1734-OB8 1769-L18ER-BB1B 1756-IM16I 2711P-T6C20D8
ICS Triplex T8461 T8850 T8403 T8431 T8831 T8310
Schneider Modicon 140DDI85300
GE Fnauc IS210AEPSG2B IS220UCSAH1A IS215ACLEH1A IS210AEAAH1B
Siemens 6ES7331-1KF02-0AB0
Prosoft MVI46-DFNT
Bachmann MPC240
Woodhead 9905-068 2301A
----(TSI)
Bently Nevada 3500/22M 138607-01 3500/25 3500/32M 149986-02 3500/53 3500/40 125860-01
EPRO MMS6110 MMS6120 MMS6220 MMS6312 MMS6410 6423 6424 MMS6822 ues815s
ENTEK EK C6622HS XM124 1440-SDM02-01RA
Would you like join our party ?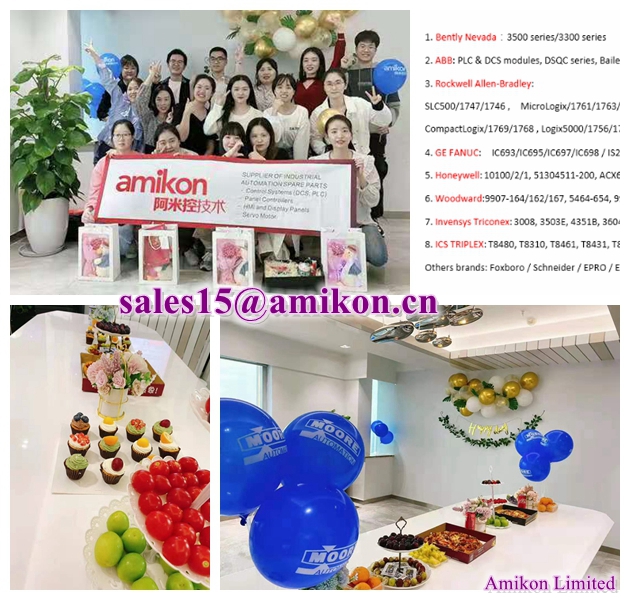 ​
Email:sales15@amikon.cn

​
We have large of inventory for our company's advantage products.

​Pro-face Touch Panel 3280007-02 AGP3300-S1-D24
SV65B 960407V3004
T3BIA-29091
Indramat DDS02.1-W100-DL04-01-FW
Siemens 6FC5111-0BA02-0AA0
Siemens 6SN1130-1DB12-0CA0
TDM 1.2-050-300-W1
Siemens TR-9DK1 A61L-0001-0072
Siemens 7MH4405-1AA00
Siemens 6SC9411-0FA00
Siemens 6SL3100-0BE21-6AB0
A02B-0303-C128
VLT 3508 HV-AC 175H2907
ABB DSQC335 3HAB6182-1
ABB 326 3HAB2242-1
A06B-6081-H101
MAC071A-0-ES-4-C/095-B-0/W1620LV/S001
MDLA2021Q00
SD-B4.140.030-00.000
VLT 3016 175H1226 380-415V
TVM 2.1-50W1-220V
TVM 2.2-050-220/300-W1/220/380 TVM2.2-050-220/300
TVM 2.2-050-W1-220V
Siemens 6SC6500-0NA44
A06B-0352-B731
Siemens 6ES5240-1AA12
Siemens 6SN1118-0NH00-0AA2
Fanuc CPU Board A16B-3200-0042 A16B32000042
Siemens 6SN1118-0NJ00-0AA1
SL-VMES2
MOD-C 34519
Siemens 6SN1118-0DM11-0AA1
ATV58HU54N4
VPG-45
DVE-534 (9226B)
PVME-305 IAE-22336B
Siemens 6AV6545-0AA15-2AX0
TDM-3.3-030-300-W1
10330-11351
TDM 1.2-50-300-W1
Siemens C98040-A1045-P3-01-85
Siemens 6SN1118-0DM33-0AA0
ADEPT TECHNOLOGY SIO ASSY 10330-11351
Indramat AC Servo Controller TDM 1.2-50-300-W1
Siemens C98040-A1045-P3-01-85
Siemens 6SN1118-0DM33-0AA0
Siemens 6ES5308-3UC21
Indramat Permanent Magnet Motor MKD041B-144-KG0-KN
Siemens 6ES5308-3UC21
Siemens 6SN1118-1NH00-0AA2
Siemens 03161 03 161-A
Siemens 6FX1138-4BA01
Siemens 6FX1125-5AB01
Siemens 6ES5955-3NC11
BSH0703P02A2A
Siemens MS250-A 6FX1190-3AA00
SMD L?tmaschine Seika 2001 Model SS 7700
AB 1769-OW8 to be distributed all over the world was added in Nov 2020
AB 1769-OW8 to be distributed all over the world has been viewed 8 times
20 More Products from Amikon plc :