EMERSON KJ2003X1-BB1 12P3439X012 famous for high quality
| | |
| --- | --- |
| Name: | EMERSON KJ2003X1-BB1 12P3439X012 famous for high quality |
| Category: | |
| Offered by: | |
| | |
EMERSON KJ2003X1-BB1 12P3439X012 famous for high quality Description:
Amikon Limited
At amikon customer service and support is very important to us. Not only will you receive your parts quickly and at a fantastic price, you will also have a dedicated Account Manager on hand to help you through-out the whole process.
Get in touch today to see how we can help you.

​
Below Brands have Special Discout recently!!
1) TRICONEX(3008,3625,3805E.3721,3700A 4351B...)
2) BENTLY NEVADA(3500/42M ,3500/22M,3500/95.3500/05...)
3) HIMA(F3330,F3236 ,F6217,F7126,F8621A....)
4) FOXBORO(FBM203,FBM204,FBM217,FMB231...)
5) Allan-Bradley (1756,1785,1771,1746,1769..)
6) ABB (DSQC .....)
​

Sales Manager :Yuki
​Email:sales15@amikon.cn
WhatsApp|Phone: +8617359287459
Sky:live:498b014e476a7ffd

​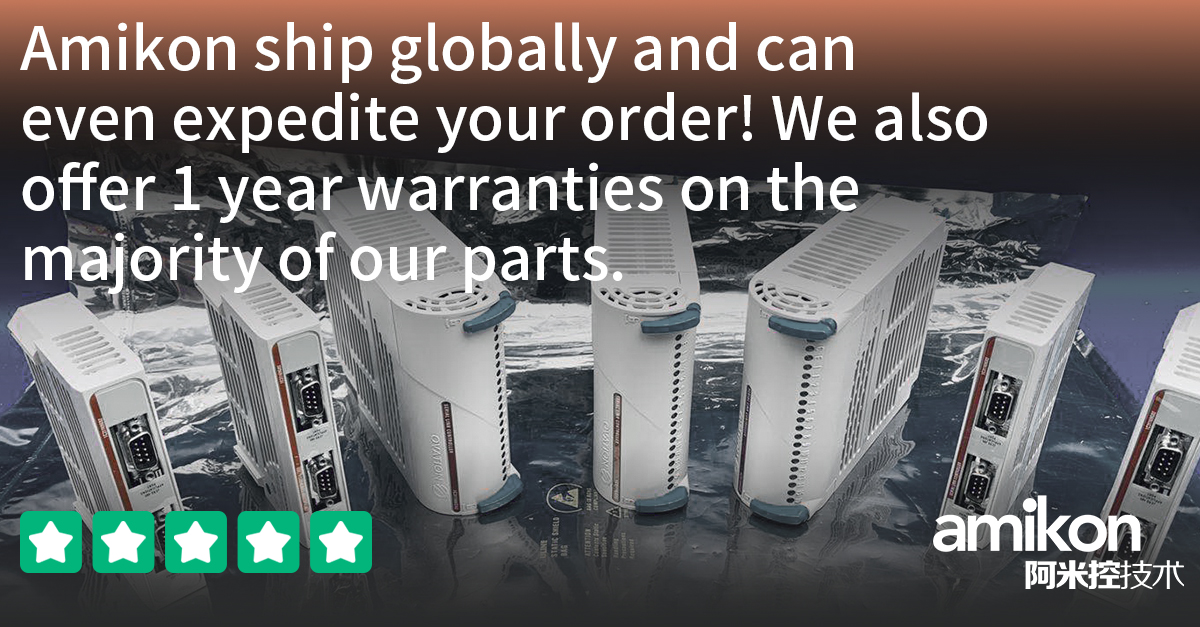 Amikon is your best supplier of industrial spare parts!
1.We always offer combined shipping discounts for multiple items. Final combined shipping rates will depend on item weight and dimensions.
2.We ship items within 1-3 Business Day of receiving cleared payments.
3.Our daily shipping cut-off time for express shipments is 6:00PM.
4.We offer Collect Shipping via TNT,DHL,UPS and FedEx.
5.INTERNATIONAL BUYERS: Import duties, taxes, and charges are not included in the item price or shipping cost. These charges are the buyer's responsibility. Please check with your country's customs office to determine what these additional costs will be prior to bidding or buying.
​

Our Company Traveling

Email:sales15@amikon.cn
​
We have large of inventory for our company's advantage products.

Siemens SIMATIC FM EXM438 6DD1607-0CA0
Type: EVD4903-E-V011 / 33.4903-E.4C.61.V011
Siemens SIMATIC C7-623 / P 6ES7623-1DE01-0AE3
Lauer PCS 200FZ
Siemens C7-624 6ES7624-1AE00-0AE3
Siemens 32 BIT CPU 6FX1147-4BB00
LENZE Servo-Umrichter Type: EVS9327-EPV910 / 33.9327PE.2S.26-V910
Fanuc aiSP 30HV Spindel Servo Verst?rker Typ: A06B-6152-H030#H580
Lenze Frequenzumrichter Type: EVF9325-EV / 33.9325VE.7B.73
Lenze Servo-Umrichter Type: EVS9325-ES / 33.9325SE.8G.91
SICK Barcodescanner CLV480-1010 / 1024066 V5.11
Sick Industriekamera IVC-2DM1112 / 1029135 / 10160108
Siemens Simatic S5-95U 6ES5 095-8MB04
Siemens 6ES7412-2XG04-0AB0
Lenze Servoumrichter Type: EVF9327-EH / 33.9327HE.3P.05
Beijer E1101 HW: 1.10.136/B122 / SW:06035B
Lenze Single Drive L-force Type: E94ASHE0474
MITSUBISHI CPU-MODUL Q26UDHCPU
Siemens 3VT5716-2DE36-0AA0
Lenze 8600 Frequenzumrichter Type: Lenze 8608_E.2C.20 / 334678
LENZE Servo-Umrichter Type: EVS9328 - KHV531
Lauer PCS 210FZ
Typ: BUC2-60/60-62-101-01
VDM01U30AP00 Typ: MC-4/11/03/400
Siemens 6ES7634-2BF00-0AE3
B&R PROVIT 5200 Type: 5D5210.01
Lenze Servo-Umrichter Type: EVS9324-EP / 33.9324PE.8G.91
LAUER PCS 600FZ
Siemens 6SE7021-0TP50-Z / Z-G91+C23+K80
LENZE Servo-Umrichter Type: EVS9328 – EP / 33.9328PE.7D.20
ESA SPS-Displayerweiterung Type: EW215AF11B000 / XWIN7P01EN1
ELAU PMC-2 Modul PMC-2/11/08/000/00/00/00/00/0K
SICK S30A-6011XX
SICK S30A-4011BA
Siemens 6DD1606-0AD1
SIEMENS 6SE7090-OXX87-4AHO
Siemens 6SE7011-5EP50-Z
LENZE Servo-Umrichter EVS9327 – ES / 33.9327SE.8G.81
EMERSON KJ2003X1-BB1 12P3439X012 famous for high quality was added in Jan 2021
EMERSON KJ2003X1-BB1 12P3439X012 famous for high quality has been viewed 9 times
20 More Products from PLC DCS CONTROL SYSTEM INC. :