ABB LZ01 LZ 01
| | |
| --- | --- |
| Name: | ABB LZ01 LZ 01 |
| Category: | |
| Offered by: | |
ABB LZ01 LZ 01 Description:
Sales Manager :Yuki Huang
E-mail : sales15@amikon.cn
Phone: +8617359287459
Skype:+8617359287459
What`s Bently Nevada parts Amikon offer you .
Bently 3500 series mechanical protection system, monitor and Bently, Bently Nevada vibration sensor probe with good measurement range,

It can be used to measure shaft vibration, shaft displacement, key phase, speed, overspeed protection, eccentricity, thermal expansion, differential expansion, etc,
​
Bently3500 system can monitor the vibration of large rotating machinery
Steam turbine, water turbine, fan, compressor, turbine expander, motor and generator, exciter, gearbox, water pump, etc.
Widely used in power plants, chemical plants, refineries, iron and steel plants, machinery plants, and complete sets of automation instrumentation enterprises.
​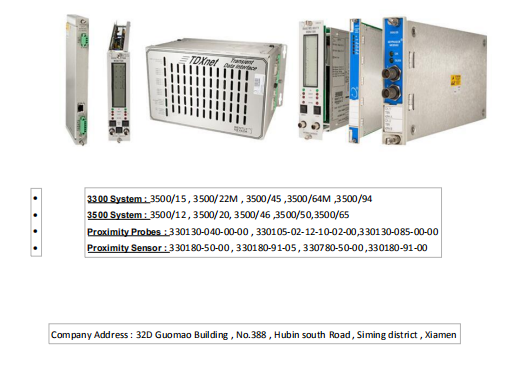 Bently 3500 / 40m proximitor displacement monitor
Bently 3500 / 42m displacement / velocity acceleration monitoring
Bently 3500 / 44m aerodynamic monitor
Bently 3500 / 45 differential expansion / axial position monitor
Bently 3500 / 46m water and electricity monitor
Bently 3500 / 50 speed module
Bently 3500 / 53 overspeed detection module
​and so on.
Our customers range from the largest multinational companies to small production companies

If you need any parts, please contact us and our knowledgeable sales representative!
​
Email:sales15@amikon.cn
OUR PRICE IS JUST WHAT YOU NEED,PLS CONTACT YUKI SOON.
TVA-E20GNCM
RIA261-B12
P/N: 10P54770001
K145AA
Type: 471.2323 ISNT11065
P110E
FR-A024-S0.75KW-EC
PMC631-G21P1M1DYY
E2519CP00B
Controls 95L-37
Endress Hauser FTL375P-F1E3
Honeywell Fema DWR06-301-S
Atlas Copco DD70+ Spare Element Kit P/N: 8102 2601-66
Nord AC Vector MC SK250/1 FCT278002500/17E300080031
Fisher Rosemount P/N: 10P53520006
Beka BA307C
Aus Irland
Beka BA307C
Pepperl + Fuchs LB 4102
XMT-T-HT-10-73
FESTO TH-5-1/4 B
WS311IDC04C20
W3010IC605J
Siemens 6ES5 460-7LA13
Siemens 6ES7 405-0RA01-0AA0
ALLEN BRADLEY 1769-OF2
GGW 10 A4-U/2
Pepperl + Fuchs HID2822
Norgren 8670400
Straub Grip-L 168.3 6.6"
Allen Bradley 1746-IB16
KFA2-SR2-EX2.W
199.190.282
015ACS-4 Kit 605030155
KD5022 KD3050-BPKG
Type. SSM.2
KFD2-VR2-EX1.50m
GM International D1010D
NJ5-18GM50-E2-3G-3D
Westlock Controls 3045RBY
HV8740607
Siemens 7MF8023-1BC64-1BB6-Z
MC-F5
NRR 2-1b
CPV10-EX-VI
7030049/181-000-23/214,00
Phoenix Contact QUINT-PS1/AC/24DC/20
D040HC
LP-0B216BN00-00-PR1
Allen Bradley 800T-U24
AT8524M-30
232.30.100
8313343/6000381
020-900-4660
KCN-R34PS/030-KLP2PU
Siemens 6ES5 470-7LC12
TR45-BH5G1R2MGHEA0
Siemens S5 6ES5524-3UA13
Siemens 6EP1 334-2AA0
Siemens 6ES7 321-1BH02-0AA0
Siemens 6ES7 307-1BA00-0AA0
Siemens 6ES7 421-1BL01-0AA0
Honeywell Fema DWR 25-301
ALLEN BRADLEY 1769-PA2
ALLEN BRADLEY Guardmaster 440G-MT
(Frick) p/n:639A0151G03
1400-4-3
347.P.7131.14.1101
FR-A024-S0.75KW-EC
Pepperl + Fuchs LB1008A
Pepperl + Fuchs NCB1, 5-8GM25-N0-10M
270XT
Type F-351
D1T-M80SS-EXI
Pepperl + Fuchs RJ 21-N
Pepperl + Fuchs EGT-101
P/N 014424
Type 253-TAAW
Omron BS-1
Open Box STAHL 9165/16-11-11
Pepperl + Fuchs NJ10-30GK-N
Burkett Solenoid 6014
Endress + Hauser NivotesterFTL120
Allen Bradley 1746-IB16
Atlas Copco DD425
Allen Bradley 1305-RFB-8-B
Allen Bradley 1305-RFB-12-C
W3011RC605A
SPK10.110B17
Krohne DK37
Siemens 6ES7405-0KA01-0AA0
Drager 6809758
701130/0253-001-05/205,245
ABB LZ01 LZ 01 was added in Feb 2021
ABB LZ01 LZ 01 has been viewed 26 times
20 More Products from PLC DCS CONTROL SYSTEM INC. :