ABB SPASO11
| | |
| --- | --- |
| Name: | ABB SPASO11 |
| Category: | |
| Offered by: | |
| | |
ABB SPASO11 Description:
SALES MANAGER :YUKI HUANG
E-MAIL : SALES15@AMIKON.CN
PHONE: +8617359287459
SKYPE:+8617359287459
Equipment Advice pre-sales support
Let our team of experts assist you with your next purchase requirement. At amikon we understand that getting the right part, at the right time, is critically important to your operation.
​​
Replacement Parts vast selection
We stock a huge selection of genuine OEM parts and systems from all major industrial automation manufacturers. Expedited processing and shipping available for to meet your mission-critical requirements.
​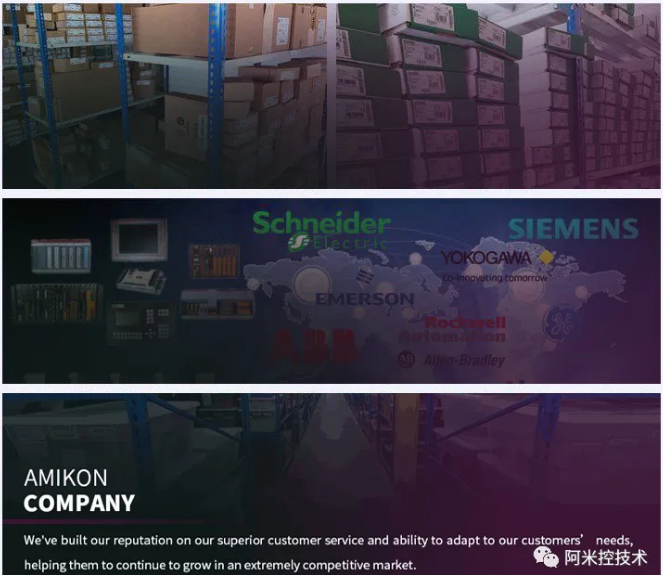 We have large of inventory for our company's advantage products.
BENTLY EPRO ALL SERIES OF PRODUCTS SPAR PARTS PROBE Proximitor
PLC : AB,ABB,GE,Schneider
DCS : ABB,Siemens MOORE,Foxboro,Westinghouse,YOKOGAWA
ESD : Triconex,HIMA,BENTLY,ICS
Excitation cards : ABB,GE Marke
DETAILS OF THIS ITEM:
​
Our customers range from the largest multinational companies to small production companies

If you need any parts, please contact us and our knowledgeable sales representative!
EMAIL:SALES15@AMIKON.CN
Attractive price waiting for you
Siemens 6ES7 195-7HD10-0XA0
Siemens 6ES7195-7HC00-0XA0
ALLEN BRADLEY 1769-IQ16
Z755
E3S-AT11-D
Spirax Sarco ASTM 304
2000-1000pa
NJ2-12GK-N
Omron S8VK-C12024
Omron E3X-A11
Omron E3V3-D61
FESTO VL/O-3-1/4
E3JM-R4M4T-G
Siemens 6ES7 195-7HB00-0XA0
S8VK-GO1524
Pepperl + Fuchs NCB1, 5-8GM25-N0
Pepperl + Fuchs KFD2-SD-EX1.17
SMC VS3135
FESTO LR-1/2-S-B
Murr Elektronik 27116
Shaft-1.625 Seal-13
Chesterton 714 - 12
FESTO MFH-3-1/4
INA RNA6906-XL
Gestra AG NRT 2-1b
Flowserve Gestra AG NRT 2-1
Norgren 5350-98
Olympus MX61L
685-045803r023
GMW25Z-2D0F2NT-001
AX7645PS & AX7645H-10
Kyosan hpk6r3zi-te8 - PULS HF-Generator 2l39-00046-25
P/N:660-002294R002
RR732L2732-452-101-1
MKS Astex AX8500
Kawasaki 30d60f-a239
STP-A3003CV
MKS ENI Spektrum 5303-00
mks astex ax8560-3020
Genmark gencobot GPR Serie 8/3L
Lam Research 715-102001-530
Lam 839-800327-432
AE RFG 1251 RF Generator M/N 3155107-102
AE Paramount 3013 RF Generator M/N 3156330-122b
003-1600-32
Spectron SL Serie SL1302Q
Leybold Turbo Pumpe MAG2000
mks astron 2l rps fi20620-1
Kawasaki 30d60f-a228
Mitsubishi RV-E14NHC-SA06
TDK tas300 Last Port Typ j1 Lam Werkstatthandbuch 799-188869-001
Daihen hrm-100a RF Auto Matcher 2l39-000144-13
Sankyo SR8601
Lam 853-040482-301
Apex 1513 Halo 3156110-014
Brooks Automation MTR-5 Roboter 001-7600-07
Genmark gencobot 4S0500457
Sankyo SR8602-0002AAR
CS-189Y-070707B
Comdel CX-3500S
ATR8 119204
Mitsubishi RH-15UHC-SA04
TMP-1303LMC, EI-D1303M
ql3513a-0f01
Pfeiffer tmh520 SG ist dn160
Yaskawa XU-RVM4120, XU-CM7401
HP Agilent 5517D-C19
Apex 2013 3156113-024 Lam P/N 660-063437-003
Pfeiffer F?T 260
c4442s-00530
Ebara ET801H
National Instruments pxi-1042q
AE Advanced Energy ICP-16L
Daihen fmm-200a1 RF Auto Matcher 2l39-000146-22
Brooks magnatran 7 300mm Wafer Transport Roboterarm 002-0016-34
Honda Electron Wafer Transfer Robot RB670-TI-R
Omron FZ3-300 Vision System mit FZ-SC2M
AE Advanced Energy OVATION 35162
Trazar amu10e-2 RF Match novellus P/N 27-118072-00
Daihen amn-50h
TDK tas300 Last Port Typ e4a
ABB Automation Maschine TERMINAL REF 542
MKS ENI Spektrum b-5002
Adtec AD-tec AX 3000III
MwSt Pendel Ventil 65050-PA52-0002
Lam 02-168108-00
Leybold TW 701 800051 V0025
M?glich Piranha 3 Line Scan Camera P3-12K40-01
AE Advanced Energy rfpp RF30H
Siemens Simatic S5 155U 6ES5 948-3UA13
AE Advanced Energy rfpp RF20M
ABB Automation Maschine Terminal REM 543 cm 214 AAAB
Omron FZ2-550 Vision System mit FZ-SC2M
Genmark gencobot 4S0703167
Horiba cs-131-15-aa
AE Navigator - 1013 3155126 -009
Seiko Seiki stp-h803wa
Sankyo SC5000 Robot Controller/TP5000-0001
Sankyo SC5000
ENI OEM-2000
Lam 02-358285-00
VAT 65048-PH52-ADR2
Hamamatsu C9300-124
EI-D203
MwSt Pendel Ventil 65040-PHCP-AZT1
AE Advanced ENERGY APEX 3013 31561143 - 011B
Rorze RR700L120
Amat 0040-50657
796-099223-003
Amat 0040-03661
J20I-8S40-18K-TRI-NSI
Daihen ATP-10B
Dressler lfgs 1250D
Nikon L104001
Agilent N1225A
Kawasaki 3ns002s-l001
ABB Automation Maschine Terminal REM 543 cm 216 AAAA
Seren R1001 13.56Hz 1Kw RF Generator PN:9600620010
Lam 685-258941-002
Lam 02-380738-00
Megaplus II EC11000
SUMITOMO X148D21002
AE Navigator - 3013 M/N 3155132-004
Brooks pri Pre 301B-CE
Genmark RP060002
AE rfpp RF-5S
Koh?rente LABmax zu & PM300F-50
650pm-16bh-0001
Siemens 6ES5 948-3UA11
Brooks Automation Robot Control Module 002-9401-01
Novellus 03-299425-00
Seiwa FCR-1 1064nm
Tachibana Tectron TVC-04KET
AE Navigator - 2013 M/N 3155166-014
650pm-16bg-0001
Comdel fp2241r3
Lam P/N 715-053738-201
Megaplus II EC11000
National Instruments NI PXI-1000B
Siemens Simatic Rack PC 6ES7643-8GM21-3XX0
Mitsubishi HMI GT1575-vtba GOT1000
ABB 3HAA3575-ABA
Lam 605-707109-001/engenuity VME-ltni-s3/b105-0102
VAT 14046-PE24-AAL1
Siemens 6ES5 955-3LC42 + 6ES5188-3UA12
Seren leichtfü?iges R101 100W RF Generator PN:9600730004
Lam Werkstatthandbuch 853-149053-01
Motorora MVME 162-532a
Illunis LLC xmv-11000m
Lam 605-707109-012
ABB SPASO11 was added in Feb 2021
ABB SPASO11 has been viewed 49 times
20 More Products from PLC DCS CONTROL SYSTEM INC. :