SM-900 Multi-Group Blades PCB Separating Machine
| | |
| --- | --- |
| Name: | SM-900 Multi-Group Blades PCB Separating Machine |
| Category: | |
| Offered by: | |
SM-900 Multi-Group Blades PCB Separating Machine Description: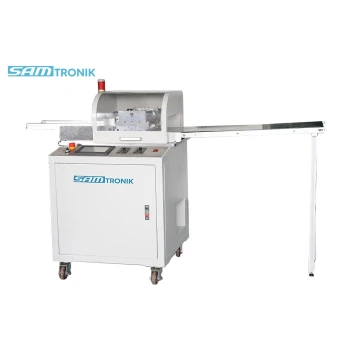 Contact: Jacky.li@samtronik.net
| | |
| --- | --- |
| Categories | Manual PCB Separator |
| Album | View larger image |
| Brand | SAMTRONIK |
| Model | SM-900 |
| Shear Width | 8-230MM |
| Shear Speed | 0-300mm/s adjustable |
| V-slot thickness | 0.2-3MM |
| Component Height | ≦12.5mm |
| Voltage | 220V/50Hz(110V/60Hz) |
| Pressure | 0.50-0.70Mpa dry air source |
| | More |
| Download DOC | |
| Update Time | 2020-11-16 |
Contact Now
Favorites
DETAIL INFORMATION
SM-900 Multi-Group BladesPCB Separating Machine
PCB Depaneling machine
Application Range:
PCBwith V-slot, of thickness 0.2 to 3.0mm, such as aluminum board, copper board, FR4board, fiber glass, T5T8 light bar, Lamp plate, etc
Feature:
Generallight bar PCB separator only can shear one small piece at a time, a whole plateof light bar needs to shear for many times,
Inthis way, productivity is far from high.
ASC-900can shear a whole LED plate by one time, with multi-group blades, which raisesproductivity and decrease labor cost.
Meanwhile,we are able to customize the non-standard ASC-900, to realize automatic feedingand after-shear storage.
1. High efficiency, save much labor cost, daily output can reach over 100thousands pieces
2. Realize auto production by connection with feeding equipment
3. To avoid PCB deformation, compatible to harsh requirement of glass pipedispensing
4. Simple training would be enough for the operate to handle ASC-900, generalstaff can learn to blade adjustment after simple training.
5. Foot-cup orcastors installed at the bottom of this machine, convenient to move, and itneeds to set stable when no need to move. Height of foot-cup could be over50mm.
6. Communicationwith other equipment is realized by SMEMA port configured, there are networkinterfaces reserved to access internet when needed.
7. PowerSupply AC220V, Air source 4-6KGF/cm2
8. Safety:light curtain + blade shell, double assurance, to prevent any injury onoperator.
9. Surveillanceon output data : monitor on start time, capacity, fault ,auto rejection system,etc
10. Distance betweenup and down blade can be adjusted precisely, accuracy keeps at ±0.1MM, PCBthickness should be in 0.6-3.5mm
11. Distancebetween two neighbor group blades could be adjusted in 8-230mm, through Spaceradjustment, accuracy of single strip keeps at ±0.02MM, accumulative error ofwhole board keeps at ±0.1MM, width adjustment could be done swiftly
12. PCBMaterial: aluminum, copper, FR4, fiber glass
13. Speed ofconveyor belt is adjustable
14. PCBentrance could be adjusted according to specific width of the PCB.
15. Blade width8mm, able to shear LED strip array above 8mm (for LED strip array under 8mm,could be customized)
Blade made by SKH-11high speed steel imported, endurance raised 1.5-2 times comparatively, repeatedusage after polish
.
ASC-900-A/900-Cconfigures 40 pieces of blades, shear is done step by step, besides highefficiency, PCB sheared won`t be deformed or bent.
Asthe only equipment in local market that matches harsh requirement of glass tubedispensing process, ASC-900-A is also able to communicate with Magazine Loader,which realizes full-automatic PCB separation.
Nowadays,labor cost has been raising gradually, the realization of full-automatic PCBSeparation helps enterprises to save much more labor cost.
Thismachine is professionally designed for production of glass tube process inlighting industry, to meet harsh requirement on deformation, this machine is also suitable to productionof LED strips of aluminum&plastic tube and strip shape PCB boards, etc.
ASC-900-Bconfigures 20 pieces blade, suitable to shear Lamp plate.
Machine Model

ASC-900-A

ASC-900-C

ASC-900-B

Machine Size

2560*685*1160

2690*685*1160

1900*685*1160

Shear Length

100mm-unlimited

100mm-unlimited

100mm-unlimited

Shear Width

8-230MM

8-230MM

8-230MM

Shear Speed

0-300mm/s adjustable

0-300mm/s adjustable

0-300mm/s adjustable

V-slot thickness

0.2-3MM

0.2-3MM

0.2-3MM

Component Height

≦12.5mm

≦12.5mm

≦12.5mm

Distance between component and V-slot

≧3mm

≧3mm

≧3mm

Voltage

220V/50Hz(110V/60Hz)

220V/50Hz(110V/60Hz)

220V/50Hz(110V/60Hz)

Pressure

0.50-0.70Mpa

dry air source

0.50-0.70Mpa

dry air source

0.50-0.70Mpa

Dry air source

Power

800W

800W

800W

Blade dimension

80*35*8mm(SKH-11high speed steel imported, by Taiwan process, repeated usage after polish)

Blades Qty Configured

40PCS

20PCS

PCB Compatible

T5、T8 LED strip

Lamp Plate
SM-900 Multi-Group Blades PCB Separating Machine was added in Nov 2020
SM-900 Multi-Group Blades PCB Separating Machine has been viewed 80 times
20 More Products from Samtronik International Limited :