two component glue potting machine for LED wall washer AB Glue Potting machine
| | |
| --- | --- |
| Name: | two component glue potting machine for LED wall washer AB Glue Potting machine |
| Category: | |
| Offered by: | |
two component glue potting machine for LED wall washer AB Glue Potting machine Description:
Wall washer potting machine
Whatsapp 0086 134 2516 4065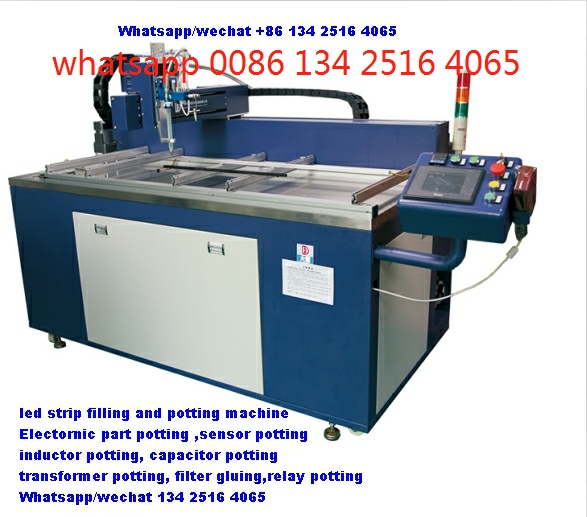 ​​
online wall washer lap glue dispensing machine/AB glue dispensing machine/ hard led bar glue dispensing machine
Applicable glue:
One-component silicone, glass glue; two-component silicone, PU glue, epoxy resin, two-component AB glue and other glues.
Applicable Products:
LED wall washer, linear lamp, flood light, underground lamp and other LED products.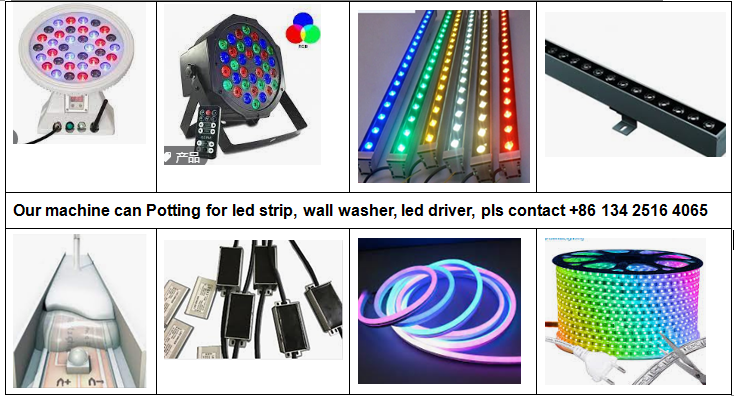 1. It can realize universal single and two-component glue filling;
2. It is suitable for line lights, wall washers and other types of products without fixture plates, general-purpose products;
3. Quickly switch products and increase production capacity;
4. Online glue filling, which can realize stand-alone operation or connect to the next process assembly line;
5. It can realize single-head and multi-head glue filling and dispensing, which greatly improves production efficiency;
6. The integrated design of glue dispensing and filling, ready to use, fully automatic operation.
7. Original timing glue discharging system: It prevents the glue filling from being temporarily stopped during shifts and breaks, and the glue operation time of the glue system has passed, causing the glue of the mixing system to solidify, and the operation time is infinitely delayed.
8. Automatic mixing of AB glue, adjustable running track, adjustable running speed, dynamic mixing of glue, automatic cleaning function, optional glue barrel heating, glue barrel mixing, vacuuming and other functions!
| | |
| --- | --- |
| Glue mixing ratio | 1: 1~10: 1 |
| X/Y/Z Working Range | 1500*480*100mm |
| XYZ Speed | 250mm/s(shift) |
| Repeatability | ±0.05mm(shift) |
| Pattern | Point, line, square, circle, arc |
| Dispensing Speed | 10-150g/5s(Adjustable, outputting amount will be different with different glue) |
| Dispensing Precision | Amount±1%, Ratio:±1% |
| Input Pressure Range | 0.5-0.8MPa |
| Head Sealing pressure | MAX≤2.6Mpa |
| Glue water viscosity | <10000CPS |
| Operation Method | Auto/Manual |
| Flow Counting | Visual |
| Programming | Teach Pendant |
| Control | Smart control card+PLC+Touch Screen(Program setting, modify, save) |
| Leak-proof Function | A, B Glue independent movement auto resorption system |
| Mixing System | High-speed dynamic stirring mixing device |
| Glue Injecting Control | High precise metering pump |
| A Pump | High precise gear pump 6-12CC |
| B Pump | High precise pressure gear pump 0.6-2.4CC |
| A Glue Tank Mixing System | Customize |
| B Glue Tank Mixing System | Customize |
| A Glue Heating System | Support |
| B Glue Heating System | Customize |
| Tank Vacuum Function | Customize |
| A Glue Tank Volume | 22L |
| B Glue Tank Volume | 22L |
| Cleaning Tank Volume | 10L |
| Dimension(L*W*H) | 2360*1820*1400mm, tranship 2000mm |
| Power Supply | 220V 50Hz About 3500W |
two component glue potting machine for LED wall washer AB Glue Potting machine was added in Jan 2022
two component glue potting machine for LED wall washer AB Glue Potting machine has been viewed 37 times
19 More Products from Guangzhou Daheng Automation Equipment Co.,LTD :