SMT On-line 3D Solder Paste Inspection
SMT On-line 3D Solder Paste Inspection Description:
SMT On-line 3D Solder Paste Inspection ?
SMT On-line 3D Solder Paste Inspection ​
If you could not find any similar items you want, you may send some photos to us. because our catalog and website haven't included all of our products.
solder paste inspection,SMT SPI,SPI machine, SPI inspection,solder paste inspection machine,SMT AOI,AOI machine,SMT AOI machine,PCB AOI machine, PCBA AOI
We are professional SMT/DIP manufacturer for reflow oven, SMT solder paste printer, pick and place machine, SMT conveyor, PCB loader unloader, SMT production line, PCBA conformal coating machine, LED production line, wave soldering machine, PCB cutting machine, PCB cleaning machine, SMT AOI/ SPI, laser making machine, etc. SMT equipment.
Welcome to Contact Us at Any Time for Further Information.
Email: etasmt@foxmail.com
Mobile : +8613670124230 (WhatsApp / Skype / WeChat)
❙ Introduce of 3D Solder Paste Inspection ​
ETA on-line solder paste inspection, SPI machine, SPI inspection, SMT SPI used in electronics PCB printed circuit board manufacture and PCB qualify control.
ETA 3D SPI can completely solve the problem of shadow and random reflection in the detection process, so that solder paste 3D detection accuracy is higher; equipped with a 5M pixel high-speed camera, detection speed is faster, the image is more delicate and rich; it is an ideal choice for high-speed and high-precision production lines.
Features:
1.LOG automatic collecting and storage function,NG warning/alarm function, Remote programming&debugging.
1. The lens of professional lens design makes the image more uniform and delicate, and greatly improves the stability of detection.
2.It can be imported into Gerber file programming, or can be used to edit and debug money from image editing mode.
3.The multi direction 3D projection method can effectively solve the detection error caused by the shadow effect in the solder paste detection process.
4.The operation system improves the result recognition and processing function according to the user level interface structure. 5. High precision programmable black and white moire fringe, the highest measuring accuracy 0.67um.
6.Based on accurate 3 dimensional measurement data, operators can optimize the whole project in a short time.
7.PCB warpage compensation: total Mark compensation calibration, component position frame compensation.
❙ Specification of 3D Solder Paste Inspection ​
Item
Model
ETA-S400
ETA-S600
ETA-S1200
PCB Direction
PCB Size
55*55 ~400*300mm
55*55 ~600*500mm
55*55 ~1200*500mm
PCB Thickness
0.5 ~ 5.0mm
PCB Weight
≤5.0kg
Conveyor Adjustment
Manual/automatic
Conveyor Height
900±20mm
PCB Direction
Left ~ Right(Right ~ Left)

Measurement

System

Measure Type
Height,Area,Volume,Offset,Bridge,Shape
Paste Height
0 ~ 500um
Min Measure Size
180 ~ 180um
Min Pad Pitch
≥100um
Measure Principle
Multi color vector boundary measurement
Height Resolution
0.67um(theoretical value)
Camera Pixel
530M
Camera Lens Number
6
FOV Size
28mm/35mm/37mm/41mm
Optical Resolution
12um/13.8um/14.5um/16.3um
Detection Speed
0.45s/FOV
SoftwareSystem
Language
English/Chinese
Program Mode
Off line or on line
Program Time
5 ~ 10min
Data Type
Gerber Data 274D/274X, Scan PCB
SPC & Process Monitoring
Standard SPC
Drive Mode
Servo Drive
Machine Direction
Barcode Scanning
Camera scanning (Option:Barcode Gun)
Power
AC220,50/60Hz,1KVA
Air Pressure
0.35 ~ 0.6Mpa
Machine Dimension
630*1620*1470mm
830*1620*1470mm
1700*1150*1500mm
Weight
1200kg
1300kg
1600kg
Option
Barcode gun or software,Bad mark data output,SPC softwave customization, NG/OK Buffer function, dual display

❙ ETA Customer Factory
▽ Russia SMT production line (smart appliances)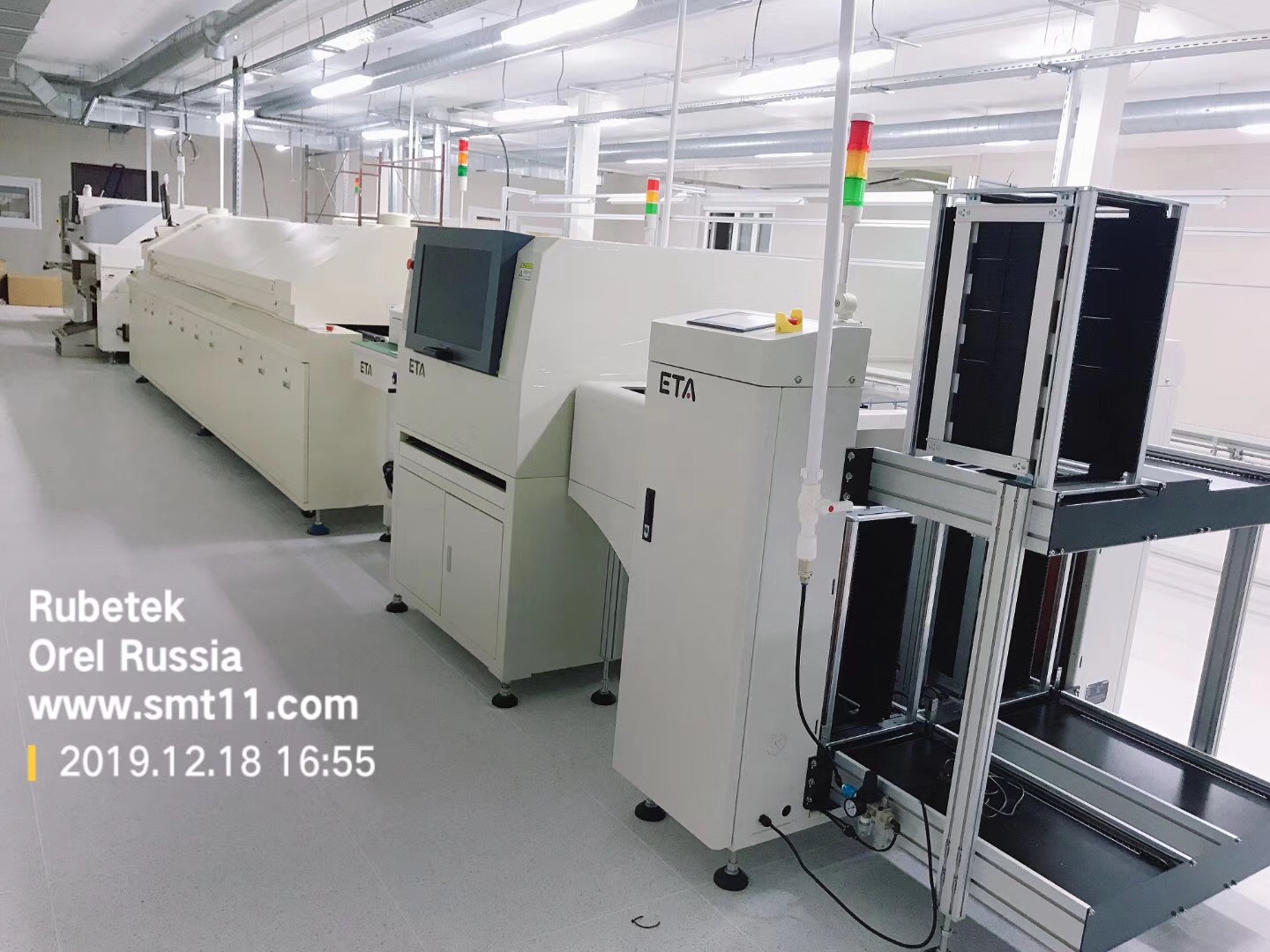 ▽ Algeria LED TV production line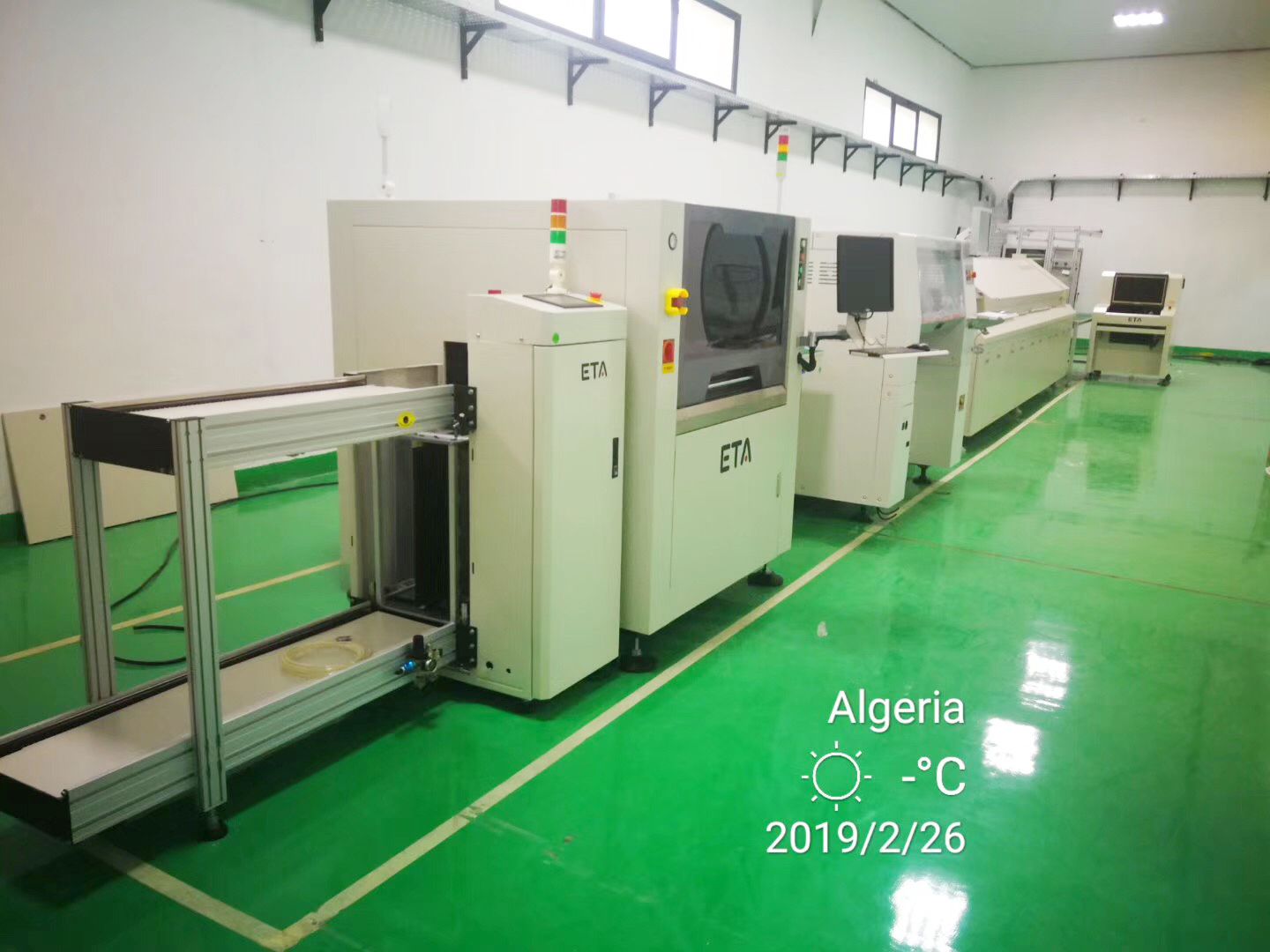 ❙ Company Profile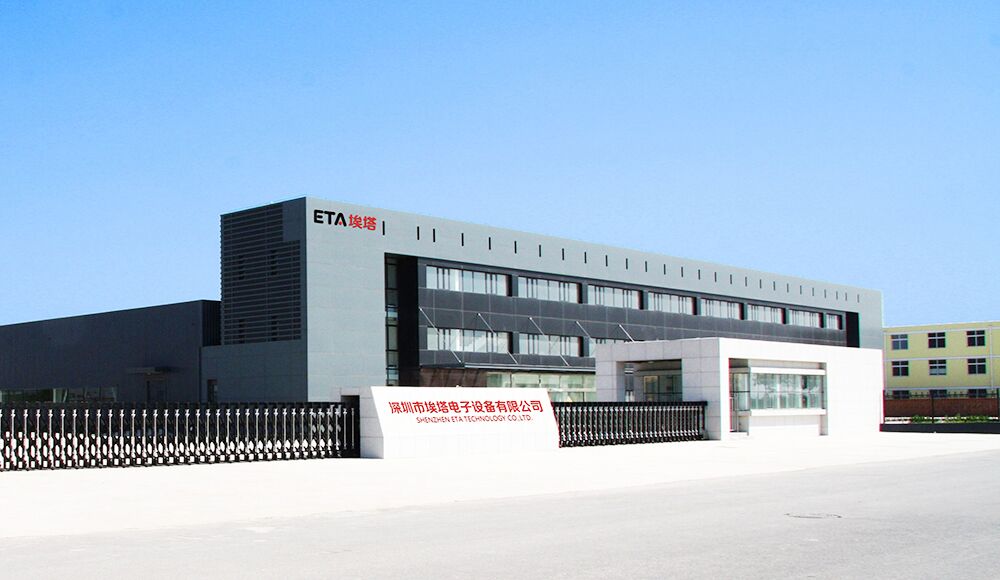 ETA is the SMT machine supplier with professional 25-year-experienced sales and after sales team, providing SMT solutions including pick and place machine, reflow oven, SMT stencil printer, SMT line and wave soldering machine.
We also is the partner of JUKI pick and place machine and Hanwha/Samsung pick and place machine, can provide the best SMT technical services and accessories support for JUKI, HANWHA/SAMSUNG, YAMAHA, PANASONIC brands.
Successful Experience:
Eta's Customer In 35 Countries Around the World
1. We Have Been Helping Customers To Build a Lot of New Factories Around the World.
2. Training More Than 500 Experts and Technician for Customers.
3. Became the Most Reliable Chinese Partner for You.
For SMT Factory Setup, We Can Do for You:
1. We Provide Full SMT Solution for You
2. We Provide Core Technology With Our Equipments
3. We Provide The Most Professional Tech Service
4. We Have Wealthy Experience on SMT Factory Setup
5. We Can Solve Any Question About SMT
❙ ETA Exhibition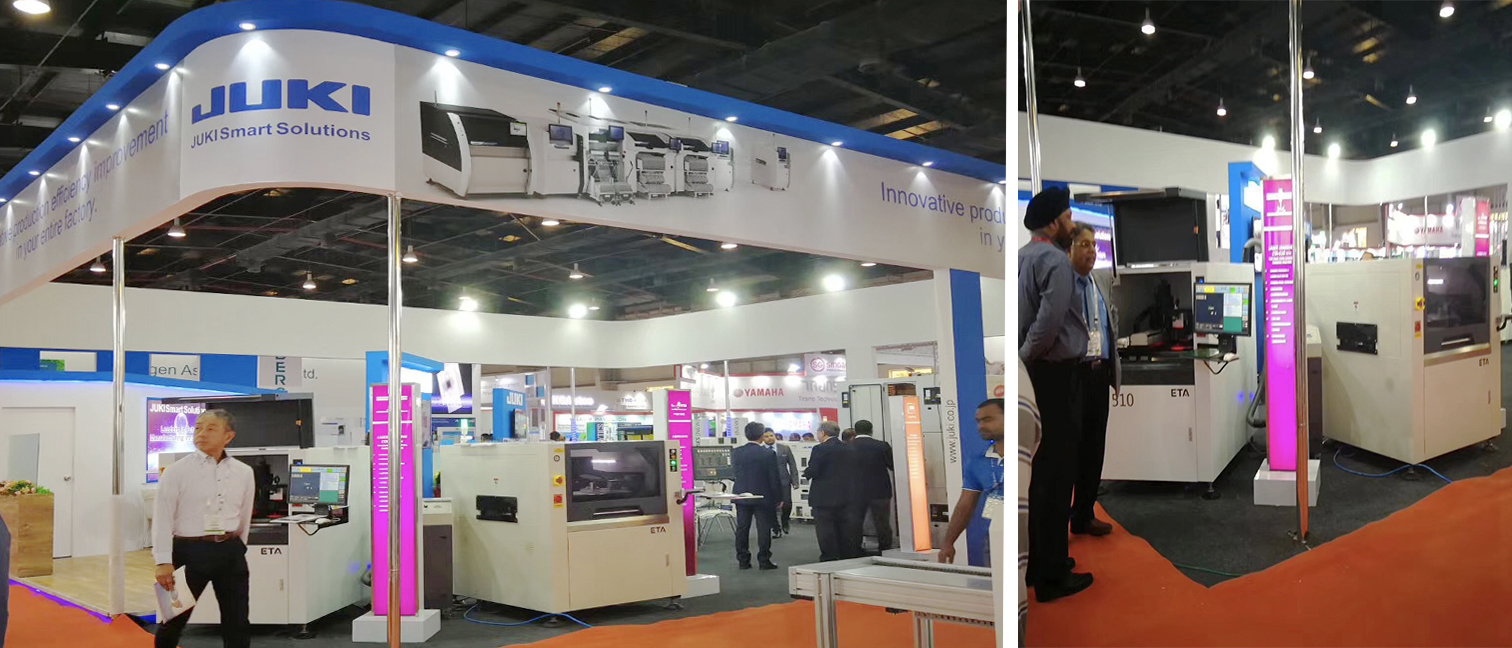 ❙ DIP On-Line AOI Certificate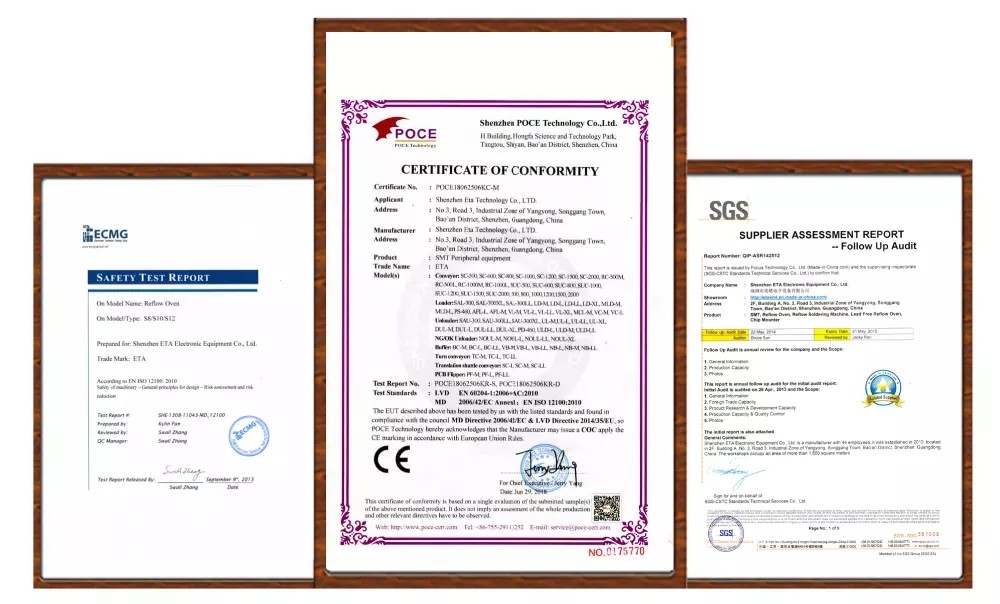 ❙ ETA Global Service
❙ Customers' Feedback
❙ FAQ
Q: What we can do for you?
A: Total SMT Machines and Solution, professional Technical Support and Service.
Q:Are you a trade company or a manufacturer?
A: OEM & ODM service are available.
Q: What is your delivery date?
A: The delivery date is about 35 days after receipt of payment.
Q: What is your payment terms?
A: 30% deposit in advance and 70% balance before shipment.
Q: What your main customers?
A: Huawei,Foxconn,Vtech,Sumida,Kemet,Vishay,Bosch,Canon.
Q: Why choose us?
A: Leading SMT Supplier in China; Trade assurance to USD 560,000+; Professional after-sales service team.
❙ Packaging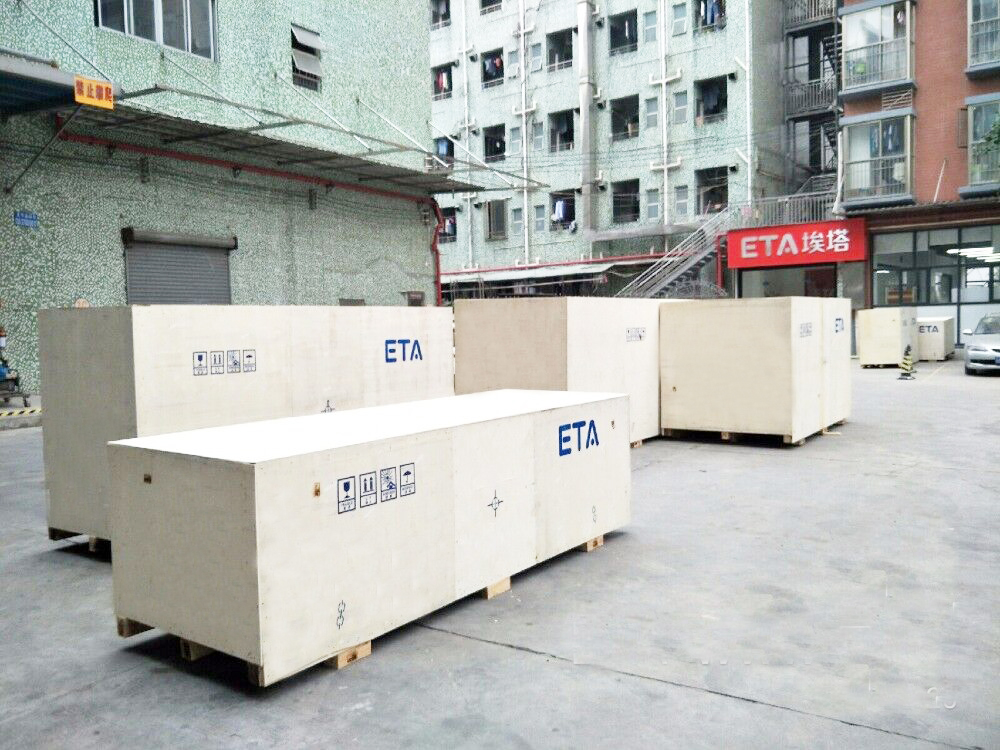 View SMT On-line 3D Solder Paste Inspection
SMT On-line 3D Solder Paste Inspection was added in Jan 2021
SMT On-line 3D Solder Paste Inspection has been viewed 267 times
20 More Products from Shenzhen ETA Technology Co., Ltd
: