HONEYWELL 51304362-150 LOW LEVEL ANALOG MUX MC-PLAM02 famous for high quality
| | |
| --- | --- |
| Name: | HONEYWELL 51304362-150 LOW LEVEL ANALOG MUX MC-PLAM02 famous for high quality |
| Category: | |
| Offered by: | |
HONEYWELL 51304362-150 LOW LEVEL ANALOG MUX MC-PLAM02 famous for high quality Description:
Who We Are
Amikon has been established for many years and become the outstanding one of this field in Xiamen.
We supply large system (DCS/PLC/TSI) spare parts, modules, card pieces.
Brands:Foxboro,Bently,Westinghouse,ABB,AB,GE,Honeywell,Emerson,Siemens,Schneider,Woodward,Yokogawa,Triconex and so on.

​
​
Sales Manager :Yuki
​Email:sales15@amikon.cn
WhatsApp|Phone: 86 17359287459
Sky:live:498b014e476a7ffd
​
​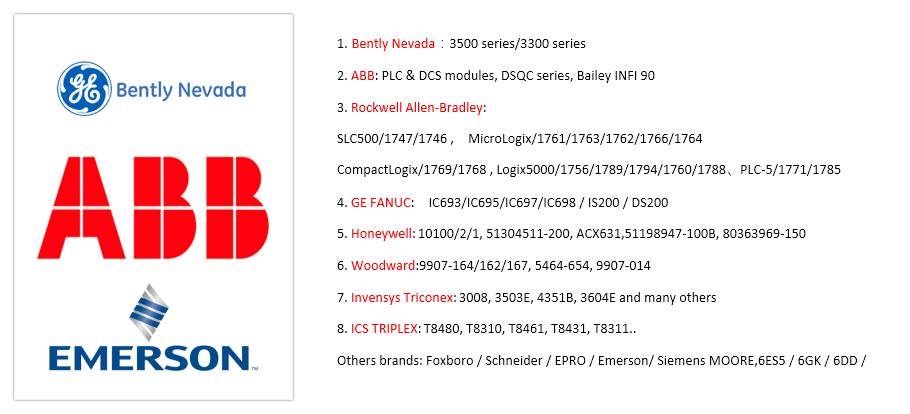 ​
Our Advantages:
1.100% Origin goods
2.In stock
3.1-year warranty
4.Timely delivery (1-3working days)
5.Competitive price.
If there is a quality problem within 15 days, you can return and exchange the products!!!
​
Below Brands have Special Discout recently!!
1) TRICONEX(3008,3625,3805E.3721,3700A 4351B...)
2) BENTLY NEVADA(3500/42M ,3500/22M,3500/95.3500/05...)
3) HIMA(F3330,F3236 ,F6217,F7126,F8621A....)
4) FOXBORO(FBM203,FBM204,FBM217,FMB231...)
5) Allan-Bradley (1756,1785,1771,1746,1769..)
6) ABB (DSQC .....)
​
​


​
​
​Email:sales15@amikon.cn
We have large of inventory for our company's advantage products.
​
​​
MDD-250SA 2.5KW
MC713/727 MC727A BN634A151G53A MC713A BN634A150G54
MC713/727 MC727A BN634A151G53A MC713A BN634A150G53
GU-D04/GU-DO4 G652016 FGC400A-130DS
MC713/727 MC727A BN634A151G53A MC713A BN634A150G54
GU-D04/GU-DO4 G652016 FGC400A-130DS
MF 75KW DKI4249B /MF-75K-380
WR-D4001-C
S-D4007-F
HAC-EP8L
HAC-EP3LK
BEH-20N
6SE7016-1TA61-Z
ps-25
GP2301H-LG41-24V
GP2500-SC41-24V
NT631C-ST151-EV2
PLC C200H-PID03
NS8-TV10B-V1
NT631C-ST152-EV2
NT631C-ST151-EV2S
NT631C-ST141-EV2
OMRON 3G2C3-CPU11E
NT631C-ST153-EV3
NT631C-ST151B-EV2S
CS1H-CPU65-V1
C2000H-CPU01-EV1
AH470280U004/AH470280T004
591C/0350/5/3/0/0/0/00/000
590C
590 590C/0350/7/3/0/1/0/00/000
590 590C/0350/7/3/0/1/0/00/000
DCS T2550 L60
058426U003 / 058426 ISSUE 1
PS4-151-MM1
HACH 1720D 52000-60
GE DV-300 FIR2-41-A
copley xenus xtl-230-40-S
POLYSONICS MST-P
PTPN-1000-023 XK3123(PANTHER)
MCS 06C41-RS0B0-A11N-ST5S00N-R0SU+PLE80
MCS06I41-RS0B0-Z0C0-ST5S00N-R0SU + GKR04-2S HAR 06IC41
HONEYWELL 51304362-150 LOW LEVEL ANALOG MUX MC-PLAM02 famous for high quality was added in Oct 2020
HONEYWELL 51304362-150 LOW LEVEL ANALOG MUX MC-PLAM02 famous for high quality has been viewed 10 times
20 More Products from Amikon plc :