AB 1771-OBN
| | |
| --- | --- |
| Name: | AB 1771-OBN |
| Category: | |
| Offered by: | |
| | |
AB 1771-OBN Description:
Sales Manager :Yuki Huang Phone: +8617359287459
E-MAIL : SALES15@AMIKON.CN SKYPE:+8617359287459
Amikon is your best supplier of industrial spare parts!
1.We always offer combined shipping discounts for multiple items. Final combined shipping rates will depend on item weight and dimensions.
2.We ship items within 1-3 Business Day of receiving cleared payments.
3.Our daily shipping cut-off time for express shipments is 6:00PM.
4.We offer Collect Shipping via TNT,DHL,UPS and FedEx.
5.INTERNATIONAL BUYERS: Import duties, taxes, and charges are not included in the item price or shipping cost. These charges are the buyer's responsibility. Please check with your country's customs office to determine what these additional costs will be prior to bidding or buying.
​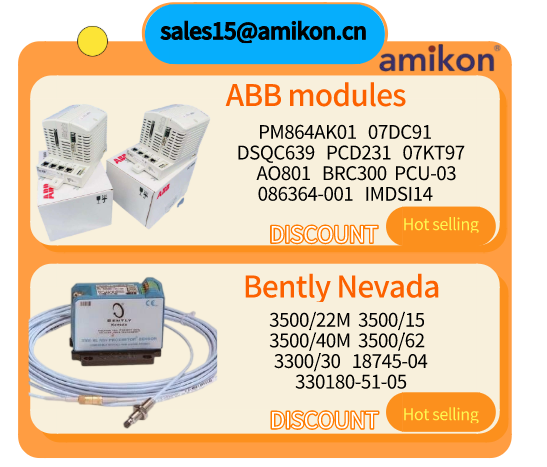 Recently Hot selling items with charming price
| | |
| --- | --- |
| Bently Nevada | 3500/40M 176449-01 |
| Bently Nevada | 3500/77M 140734-07 |
| ABB | SA801F 3BDH000011R1 |
| ABB | SA801F 3BDH000011R1 |
| ABB | DTCC901B 61430001-FU |
| ABB | DTDX741A 61430001-UP YWPAH 3BSC980004R680 |
| ABB | DTDX991A 61430001-UW |
| ABB | DTEX742A 3EST125-973 YWPEHA13 3BSC980004R1068 |
| ABB | DYSF118B 61430001-XG |
| ABB | DYTP600A 6143001-ZY |
| ABB | DTCA717A 61430001-WH |
| ABB | DTDX707A 61430001-WG |
| FAIVELEY | A544337 |
| FAIVELEY | 33.60.6647 |
| FAIVELEY | 33.92.7202 |
| FAIVELEY | 74030000 E2333 |
| FAIVELEY | 74030000 H3470 |
| FAIVELEY | A544305 |
| FAIVELEY | CAMP-01 |
| FAIVELEY | S-D-010.355 |
| ABB | EI803F 3BDH000017R1 |
| ABB | HIEE305082R0001 UNS-0863A-P |
| INDRAMAT | DKC10.3-012-3-MGP-01VRS 全新 |
| GE | DS200SDCCG5A |
| GE | DS200TCQAG1A |
| RELIANCE | HR500 BLJC-08R 5RD1601 |
| PROSOFT | PLX31-MBTCP-MBS |
| HONEYWELL | 51401497-100 |
| Bently Nevada | 3500/72M 176449-08 |
| ABB | AI880A 3BSE039293R1 |
| ABB | ACP201-02 3ADM2001132R0101 |
| FOXBORO | P0903CV |
| WESTINGHOUSE | 7379A21G01 |
| HONEYWELL | TK-OAV061 |
| VIBRO METER | IQS452 204-452-000-221 |
| AB | 1336-BDB-SP34D 77101-169-64 |
| WOODWARD | 8440-1800 EASYGEN-320 |
| Bently Nevada | 2201/03-01 |
| ABB | 3BHB003154R0101 5SXE 04-0150/3BHL000390P0104 5SHX 1960L0004 |
| AB | 1791-24B8 |
| AB | 1791-OB32 |
| GE | IC698CHS017 |
| ALCATEL | OS9600/OS9700-CMM |
| HONEYWELL | 10313/1/1 |
| HONEYWELL | FC-TSAI-1620M |
| HONEYWELL | FC-TSDI-1624 |
| HONEYWELL | FTA-T-08 |
| HONEYWELL | FTA-T-21 |
| HONEYWELL | SB3610-B |
| HONEYWELL | 51199932-200 |
​

E-mail : sales15@amikon.cn
Sales Manager :Yuki Huang Phone: +8617359287459
E-mail : sales15@amikon.cn Skype:+8617359287459
AB 1771-OBN was added in Mar 2021
AB 1771-OBN has been viewed 12 times
20 More Products from Amikon DCS Control Inc. :